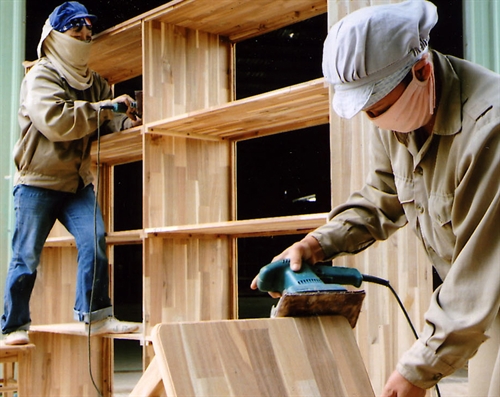 Wooden goods being made at a factory in northern Tuyen Quang Province. - VNA/VNS Photo Thanh Ha
Speaking at the association's seventh congress in Ho Chi Minh City on Wednesday, HAWA chairman Nguyen Quoc Khanh said despite difficulties the wood processing and handicrafts industry has enjoyed steady growth to make the country the largest wood products exporter in ASEAN.
The latest figures from the Ministry of Industry and Trade show that in the past five months exports topped $2.68 billion, an increase of 2.08 per cent year-on-year.
Huynh Van Hanh, HAWA's permanent deputy chairman, said with the positive situation in the US real estate market and the recovery of the European and Japanese markets (the country's three largest export markets for wood and wood products), exports would see good growth this year.
The handicrafts and wood industries have grown strongly in the last several years, and the trend is expected to continue, he said.
The development of the industry would surely bring about the development of its part supplying industries like machinery and equipment, glue, paint, raw materials and accessories, he said.
Khanh said the association has been an effective bridge between the Government and businesses.
It has organised training courses, trade promotions and seminars to help members become more competitive and expand markets both at home and abroad, he said.
It admitted 47 new members in the last term, raising the total number to 369, he said.
In the upcoming term HAWA would strive to help businesses operate more efficiently, he said.
It would also enhance trade promotion and training to improve the competitiveness of its members and work to help them understand more about adding value to wood products through design, distribution and building brands, he added.